Crochet Christmas Present Ornament Pattern
 free crochet pattern from cRAfterChick.com
This free crochet pattern is for the green present ornament seen in the picture above or in the image below of the entire ornament set it is in the bottom left hand corner. All ornaments seen in picture below are free crochet patterns here at cRAfterChick.com.
If you are interested in those patterns as well, you can find links to these patterns at the bottom of this one.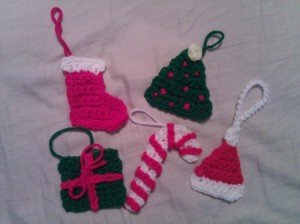 Green Christmas Present Ornament Crochet Pattern Notes
Project requires:
Green yarn for main color-  (I use a lot of Red Heart Saver yarn for these though you can use all medium to normal weight yarn)
Red yarn for accents
"H" hook  (5.00 mm)
Scissors or yarn cutter
Blunt large eye yarn / tapestry needle to weave in ends
Abbreviations used in our patterns (US crochet stitches):
ch – chain
sl st – slip stitch
sc – single crochet (US)
dc – double crochet (US)
Pattern Instructions:
Green Present Base (Main color): Using main yarn color for this project (green)
Round 1: Chain 9. Put 1 Sc in second ch from hook and in each ch across. Ch 1 and turn. (8 sc)
Round 2-7: Work 1 sc into each sc across. Ch 1 and turn. (8 sc). (or continue until desired length)
Round 8:  Work 1 sc into each sc across. (8 sc) Pull yarn through and fasten off.
Finish off or if you like a more finished look like me, slip stitch in each stitch all the way around the hat to give it a nice outline.
Note: I always try for a perfect square so I will fold from corner to opposite corner to see if it is a perfect square before finishing off.  For mine it worked out to be 8 rounds total.
Red trim and accents on Green Present Ornament:
Using Red yarn (Accent color) make a chain of 9.
Pull yarn through and leave extra length to tie on to top of present and secure a simple loop for ornament to hang before finishing off piece.
Make a total of 2 chains following above.
(Note: If you like a heavier loop or more fancier looking loop, try making a simple loop of chain stitches.

I did a loop of 22 ch stitches for this. )
Finishing off ornament:
Using a yarn needle I fixed the "ribbon" parts on to the present in a crossed position like in picture, securing it by weaving through from end to the other of Green present in place.
I then used a scarp of red yarn to bring through piece around top piece of red present embellishment, tied a double knot then finished it in a standard shoelace kind of bow.
That's it.  It's a pretty simple project for beginners and the ornament set make great little holiday gifts to go into baskets or stockings.
Looking for the other ornament patterns in this set?  Here they are:
Candy Cane Christmas Ornament Crochet Pattern
Christmas Tree Ornament Crochet Pattern
Santa Hat Christmas Ornament Crochet Pattern
Stocking Christmas Ornament Crochet Pattern
Want more free patterns? Follow cRAfterChick on Facebook or Pinterest to get updates on patterns as they are added.
Note: All the cRAfterChick patterns shared on this site are free of charge.  Please feel free to use them to make your own items.  If you use it to make items to sell please credit cRAfterChick for the pattern and provide link to our site.  Please do not copy and paste my pattern or try to use my images as your own.  You can link to any of my patterns.  Happy crafting!