Easy Peasy Toddler Sized (Age 1 – 3 Years Old) Double Crochet Beanie Pattern
 free crochet pattern from cRAfterChick.com
Looking for an Easy Peasy crochet beanie pattern? What about a simple one made with Double crochet?  This pattern is perfect even for the beginner so give it a try.
Since this crochet pattern is done in Double Crochet instead of half double or single crochet like others it builds up rather quickly. I use the Easy Peasy Beanie Crochet Pattern family sizes for the majority of my hats as a base to build on or embellish.
(*Note: This pattern is set to fit a child from age 1 to 3 years old based on crown size standards in US hats. If child is slightly smaller or larger for age, go size up or down not by age. For instance I have a very small 5 year old niece that still can stretch toddler hats on her head and proudly shows them off.)
Are you looking for this in another size? Check out the whole family of sizes in the free Easy Peasy Double Crochet Beanie pattern page here at cRAfterchick.com.
Easy Peasy Toddler Sized (Age 1 – 3 Years Old) Double Crochet Beanie Pattern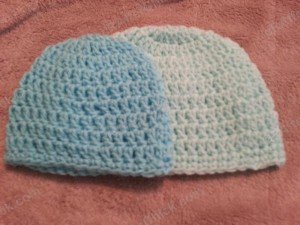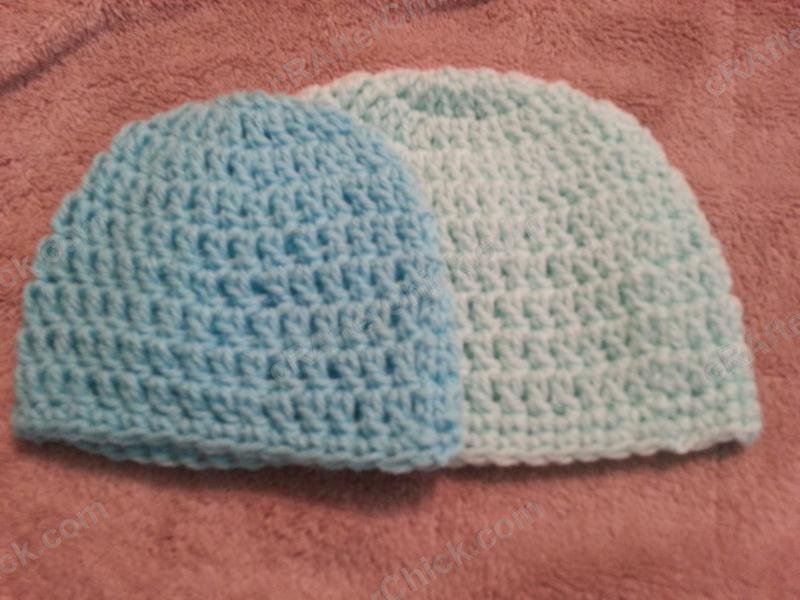 Project requires:
Medium to normal weight yarn (I use a lot of Red Heart Saver yarn for these though you can use baby yarn for extra soft beanie hats too!)
"J" hook (6.0 mm)
Scissors or Yarn Cutter
Blunt large eye yarn / tapestry needle to weave in ends
Abbreviations used in this pattern (US crochet stitches):
ch – chain
st – stitch
sl st – slip stitch
sc – single crochet (US)
dc – double crochet (US)
Free Toddler Sized Double Crochet Beanie Hat Pattern (Fits most one to three year old toddler based on standard US sizing)
Pattern Instructions:
*Note: This project is worked in the round on the base of a magic circle ring. If you do not know how to do this, please see tutorial here from: yarntomato on CrochetMe
Round 1: In a magic circle, ch 2 (does not count as a dc throughout pattern as I use this to make a more seamless appearance in my hats) then place 10 dc in to the circle. Pull circle tightly closed and join with sl st in top of beginning st in round. (10 dc)
Round 2: Ch 2 before making  2 dc in 1st st and 2 dc in each of the following 9 st around. Join with sl st in the top of 1st st. (20 dc)
Round 3: Ch 2 before placing *2 dc in 1st st and 1 dc in next st.* Repeating * pattern for next 18 st around. Join with sl st in top of 1st st. (30 dc)
Round 4: Ch 2 before placing *2 dc in 1st st and 1 dc in next 2 st* Repeating * pattern for next 27 st around. Join with sl st in top of 1st st. (40 dc)
Round 5 -11: Ch 2 before placing 1 dc in 1st st and 1 dc in each of the remaining 39 st around. Join with sl st to top of 1st st. (40 dc)
Round 12: Ch 1 before making 1 sc in 1st st and 1 sc in each of the remaining 39 st around. Join with sl st to top of 1st st. (40 sc)
Cut yarn leaving a short tail to finish off the project. Pull tail through and weave in ends with your yarn needle before cutting off any extra length left behind to fasten off hat.All done!

Want a trim or contrast color? You can easily add a contrast trim by adding an additional round of sc to end of hat in new yarn color or for a wider trim, subtract one dc round from Round 5-11 then add that to the end after in between sc rows in contrast color.
The sky is the limit on possibilities or ideas to make each your own, unique and special from stripes to adding features or appliques etc.  Drop by our free pattern section to find some of cRAfterChick's ideas to make your project extra fun or special. 
Want more free patterns? Follow cRAfterChick on Facebook or Pinterest to get updates on patterns as they are added.
Note: All the cRAfterChick patterns shared on this site are free of charge.  Please feel free to use them to make your own items.  If you use it to make items to sell please credit cRAfterChick for the pattern and provide link to our site.  Please do not copy and paste my pattern or try to use my images as your own.  You can link to any of my patterns.  Happy crafting!