Gavin's Dinosaur Friend Beanie Hat Crochet Pattern
 free crochet pattern from cRAfterChick.com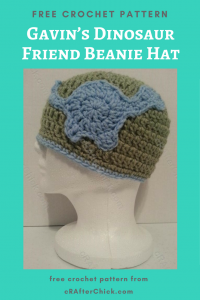 This crochet pattern was designed in honor of and for a little Juvenile Arthritis hero of mine, Gavin.  He is a big dinosaur fan so I figured I would make something special for him.  Thus the Dinosaur Friend applique for beanie hats was born.  You can use it on tons of other projects too. I plan on using it on some bibs in the near future and maybe a crocheted tote bag for my nephew to take to school.
 I am still a beginner at writing patterns so if anything is confusing please let me know and I will try to straighten it out for you.  I would say in my own crocheting I'm only advanced beginner to intermediate so I think this crochet pattern will work well for even those that just recently picked up crochet hooks. Happy crafting!
Gavin's Dinosaur Friend Beanie Hat Crochet Pattern Notes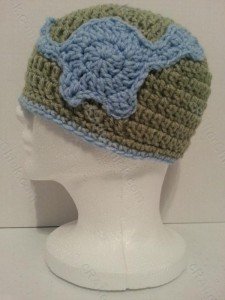 Project requires:
Main Colored Yarn for Beanie Hat
(I use a lot of Red Heart Saver yarn but any medium to normal weight yarn will do)
Contrast yarn for bottom contrast trim and dinosaur applique
"J" hook (6.0 mm)
Scissors or Yarn Cutter
Blunt large eye yarn / tapestry needle to weave in ends
Abbreviations used in this pattern (US crochet stitches):
ch – chain
st – stitch
sl st – slip stitch
sc – single crochet (US)
hdc -half double crochet (US)
dc – double crochet (US)
tc – triple crochet (US) 
Pattern Instructions:
*Note: This project is worked in the round on the base of a magic ring. If you do not know how to do this, please see tutorial here from: yarntomato on CrochetMe
The hat in this picture is made with my Easy Peasy  Pre-Teen / Teen / Women Double Crochet Beanie Pattern which you can find here as a foundation for the project.  Want it in another size? No worries. Head over to Easy Peasy All Family Sizes Free Double Crochet Beanie Patterns to select the size you want for your project.
Hat Base: using main color yarn of your choice
Use Easy Peasy Crochet Beanie Size of your choice
Once you have completed your beanie for the base you are ready to get started on making this a dinosaur friend hat.


Taking contrast color yarn, attach to bottom of last round of beanie with a sl st. Ch 1 and work 1 sc in to each st around. Sl st to top of first st in round.
Dinosaur friend applique: using contrast color yarn
Round 1: In magic circle, ch 2 (does not count as a st) before placing 10 dc. Sl st in to top of first st in round. (10 dc)
Round 2: Ch 2, place 2 dc in each st around. Sl st in to top of first st. (20 dc)
Round 3: Sl st in first st, in next st sc, ch 9, sc in 2nd ch from hook, in following ch st place 1 hdc and 1 dc, 3 dc in following st, 2 sc in next st, 1 sc in next 4 st. Sl st into stitch on circle from round 2.
Continuing from where you left off at neck working counter clockwise, sc in next st, 2 sc in next st, 1 hdc in next 2 st, sc in next. Sl st in to next 3 st.
Now starting at tail sc in next st to start top of tail. Ch 8. Sc in bottom of second ch from hook , 2 sc in next 3 st, 1 sc in next 3 st. Sl st back in to main circle.
Sl st in next 2 st, ch 3, sl st down side of last st, 2 tc in next st, sl st up side of st and back into body round. Sl st in next 2 st, Chain 3, tc in same , 2 tc in next st, sl st up side of last st joining back into dinosaur's body.
Sl st up side to base of neck joining of dino. Ch 1, 2 sc in first neck st, 1 sc in next 2 st, sctog next 2 st, end with 3 sc at top of head to round it out.
Cut yarn with an extra EXTRA long tail in order to sew this applique  securely on to the hat.  I tend to go for roughly three times the perimeter length by rough sight estimate.
Finishing off:
Using the yarn needle use the tail to secure the dinosaur friend crocheted applique on to your beanie hat.  I just do a simple in and out weaving the two pieces together. It lays more flat when finished.
One thing I do often is to use straight pins to hold the applique in place. My hands aren't the best so the appliques or features I attach tend to move around a bit while I'm sewing and I can't stand for it to be crooked. 😉
Cut off any lose ends after fastening off to finish off this project.
All done. One super special Dinosaur Friend Beanie Hat Crochet Pattern dedicated to my little Juvenile Arthritis hero Gavin.
Want more free patterns? Follow cRAfterChick on Facebook or Pinterest to get updates on patterns as they are added.
Note: All the cRAfterChick patterns shared on this site are free of charge.  Please feel free to use them to make your own items.  If you use it to make items to sell please credit cRAfterChick for the pattern and provide link to our site.  Please do not copy and paste my pattern or try to use my images as your own.  You can link to any of my patterns.  Happy crafting!