One Giant Granny Square Blanket Crochet Project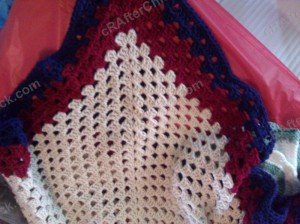 I couldn't remember where I first stumbled across this pattern idea years ago but it's been a fall back pattern for me to do for gifts when I want to mindlessly crochet something. It's surprising how fast these work up too.  Basically the whole blanket is just one easy giant granny square so no sewing together pieces, squares or motifs. That's a giant check in the plus side for me. I really do hate sewing pieces together. I try to avoid if it at all possible. lol Seriously I do.
Well since I couldn't remember the exact site I found it on here is the pattern on one site that I did find for this project. Check out the Giant, Giant Granny Square Blanket crochet pattern at  Purl Bee to whip up your own.
Want more free patterns? Follow cRAfterChick on Facebook, Twitter or Pinterest to get updates on patterns as they are added.