Chibi Ninja Hat Crochet Pattern
 free crochet pattern from cRAfterChick.com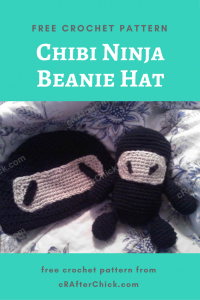 My oldest nephew is getting older and older. This past year he became very active in Karate and has been getting awards for his skills. I call him my Little Ninja so I made him his own crocheted stuffed ninja with a matching hat.
This crochet pattern is for the Chibi Ninja Hat seen in picture above. If you are looking for the Chibi Amigurumi Ninja Doll, you can find it here…  Chibi Amigurumi Ninja Doll Crochet Pattern.
Chibi Ninja Hat Crochet Pattern Notes
Project requires:
Yarn for main color (I used black in picture)-  (I use a lot of Red Heart Saver yarn but any medium to normal weight yarn will do)
Contrast color of your choice for Ninja's face/skin tone ( I used a light tan color)
"J" hook (6.0 mm)
Scissors or Yarn Cutter
Blunt large eye yarn / tapestry needle to weave in ends
Abbreviations used in this pattern (US crochet stitches):
ch – chain
st – stitch
sl st – slip stitch
sc – single crochet (US)
dc – double crochet (US) 
Pattern Instructions:
*Note: This project is worked in the round on the base of a magic ring. If you do not know how to do this, please see tutorial here from: yarntomato on CrochetMe
The hat in this picture is made with my Easy Peasy Youth Sized (Age 3-10 years old) Double Crochet Beanie  Hat Pattern which you can find here as a foundation for the project.  Want it in another size? No worries. Head over to Easy Peasy All Family Sizes Free Double Crochet Beanie Patterns to select the size you want for your project.
Hat Base: using black yarn or desired main color yarn of your choice
Use Easy Peasy Crochet Beanie Size of your choice
One you fasten off your beanie hat, you are ready to start working on your Chibi Ninja face!

Chibi Ninja face area: using light tan / flesh colored yarn
Round 1:  Starting with a foundation chain of 19 ch,  make 2 sc in 2nd ch from hook, 1 sc in each of the following 16 ch and 2 sc in last st of chain. Turning so you are working on back side of foundation chain to create more of  a circle, work 2 sc in first ch, sc in each  of the 16 ch working back to beginning in circular fashion until last st, place 2 sc in last st.  Sl st to top of first st.
Round 2-4: Continue working in rounds similar to above with 1 sc in each st but 2 sc in each of the four corners around your face to start  forming the rectangle shape . Sl st into first st to complete each round. Continue until you are the final size you want. For my Chibi Ninja in picture for this crochet pattern I made 4 rounds total.Pull yarn through leaving enough tail to sew on face to secure to doll later when cutting. Put Ninja face area to side until needed.
Ninja eyes: using black yarn 
Using black yarn and leaving a bit of a tail for sewing eye in place when done, chain 8. Dc in third ch from hook and each of following 5 ch. (6 dc)
Pull yarn through and cut yarn. Using large blunt eye needle, sew eye into position you want it to be in. I sometimes pin my in place to make sure I have them even or it drives me nuts.  Finish off yarn from eyes behind face.
Finishing off hat:
Now that your Ninja's face and your hat base is complete, use the yarn tail from your face area to secure it into the finished place with the yarn needle.  I find that if I use the pins to hold it in place I can keep it even and not crooked instead of moving about.  Apparently without them my sewing skills are close to none…   Once you've sewn it into place, Finish off yarn behind face.
There you go. Your own Chibi Ninja beanie crocheted hat!

 It' s a really fun but quick project.  You can choose to put the eyes in all kinds of positions like:   \ / or / \ or _ _  or even > < with small v's instead of eye strip used above.
Want more free patterns? Follow cRAfterChick on Facebook or Pinterest to get updates on patterns as they are added.
Note: All the cRAfterChick patterns shared on this site are free of charge.  Please feel free to use them to make your own items.  If you use it to make items to sell please credit cRAfterChick for the pattern and provide link to our site.  Please do not copy and paste my pattern or try to use my images as your own.  You can link to any of my patterns.  Happy crafting!