Star Shaped Face Scrubbies with Strap Crochet Pattern
 free crochet pattern from cRAfterChick.com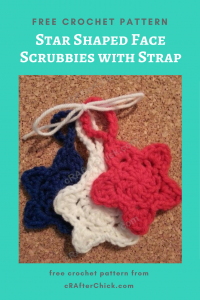 For this batch of star shaped face scrubbies, I made them as part of a 4th of July gift for my Gran as it is also her birthday and wedding anniversary. So I used red, white and blue yarn to make three star scrubbies in her gift set.
They are super easy to make and quick so you can make up a set in one sitting. They make great hostess or basket stuffing gifts even at the last minute. I know I can't be the only one that often puts off gift making to the last minute.  You can make a set in one color, many colors, or just have fun with them.  

Star Shaped Face Scrubbies with Strap Crochet Pattern Notes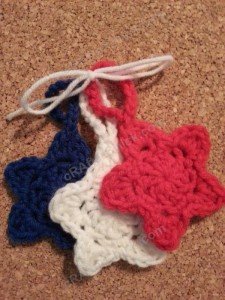 Project requires:
Desired color(s) yarn for your scrubbie
I used red, white and blue yarn for the set in the pictures
(I use a lot of Red Heart Saver yarn but any medium to normal weight yarn will do)
"J" hook (6.0 mm)
Scissors or Yarn Cutter
Blunt large eye yarn / tapestry needle to weave in ends
Abbreviations used in this pattern (US crochet stitches):
ch – chain
st – stitch
sl st – slip stitch
sc – single crochet (US)
dc – double crochet (US) 
hdc- half double crochet (US) 
Pattern Instructions:
*Note: This project is worked in the round on the base of a magic ring. If you do not know how to do this, please see tutorial here from: yarntomato on CrochetMe
Round 1: In magic circle, ch 2 before placing 10 dc in to the circle. Pull circle closed and sl st in the top of the 1st st in round. (10 dc)
Round 2: Ch 1 before placing 1 sc in 1st st, ch 1, 1 sc in next 2 st, ch 1, 1 sc in next 2 st, ch 1, 1 sc in next 2 st, ch 1, 1 sc in next 2 st, ch 1 and sc in last st. Sl st in the top of the 1st st in round. (10 sc, 5 ch-1 sp)
Round 3: Ch 1. Sl st in 1st st. In *ch-1 sp do the following : sl st, 1 sc, 1 hdc, 1 dc, 1 hdc, 1 sc, 1 sl st, then sl st in to the next st*, repeat * process around sl st in top of the 1st st in round. (5 worked ch-1 sp into 5 points)
Strap: Sl st up to tip of first star point. Once you reach that tip, ch 16 and sl st back in to the same stitch you started chain from. Leave a short yarn tail to finish off.
Fasten off beginning yarn tail and ending yarn tail securely in the back of the face scrubbie.
All done.

Ready to start scrubbing your face or a lucky gift recipient's face.
Here are some additional pictures I took along the way: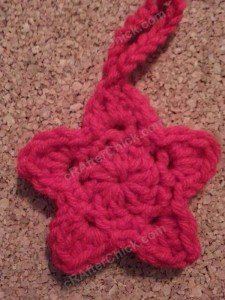 Want more free patterns? Follow cRAfterChick on Facebook or Pinterest to get updates on patterns as they are added.
Note: All the cRAfterChick patterns shared on this site are free of charge. Please feel free to use them to make your own items. If you use it to make items to sell please credit cRAfterChick for the pattern and provide link to our site. Please do not copy and paste my pattern or try to use my images as your own. You can link to any of my patterns. Happy crafting!