Blue Daisy Square Crochet Blanket Project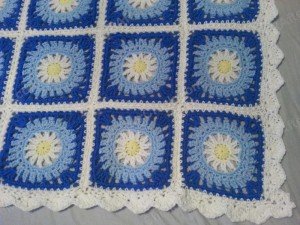 When I came across the picture for the He Love Me daisy blanket in a March / April 2013 issue of Crochet Today I instantly fell in love. I mean totally smitten. I have never needed to make a blanket so bad before. Why did I love it so? One I'm all about daisies period.  They are one of the few flowers I adore.  Two the pattern just looked amazing.
So I thought I would give it a shot and this is how my project turned out. Scroll down for some additional shots.  The blanket I made was so big it almost covered my entire queen sized bed.  It was a labor of love for me as it took three weeks of my crocheting for it to come together. I am definitely not going to attempt a project this large again for a long time but I'm pretty happy with how it turned out and it is mighty comfortable like all crocheting blankets.
What do you think?  It's definitely not as perfect as original and the colors are different but I still love it. You can see more information on the He Loves Me
blanket here at Crochet Today.
This project was completed using a pattern from an external source. It is free to those who subscribe to Crochet Today on their website here.
Want more free patterns? Follow cRAfterChick on Facebook, Twitter or Pinterest to get updates on patterns as they are added.