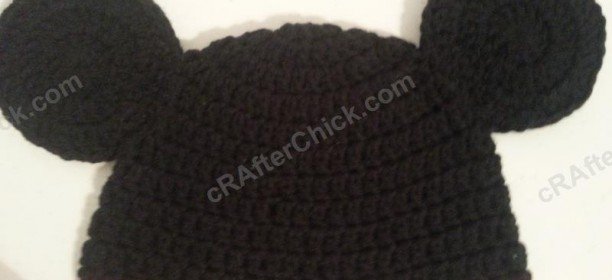 Mickey Mouse Oversized Ears Beanie Hat Crochet Pattern
  free crochet pattern from cRAfterChick.com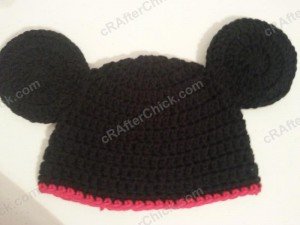 This was a cute hat project that worked up really fast and who doesn't like Mickey Mouse?  After posting a picture of this hat on my personal Facebook account, I got more than 10 requests from family and friends wanting Mickey or Minnie hats.  Normally I just do them for a certain person but I may have to put together an army of these hats to make everyone happy.  I love that the ears are extra big on the hats versus smaller ears I have seen on other hats.  The red trim at the bottom is optional but I like it as it represents the red in his clothing.  :)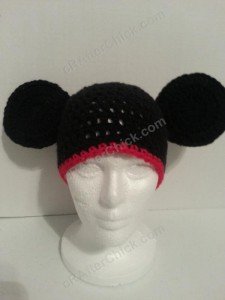 Mickey Mouse Oversized Ears Beanie Hat Crochet Pattern Notes
Project requires:
Black Yarn for Beanie Hat main color (or desired color) and ears- (I use a lot of Red Heart Saver yarn but any medium to normal weight yarn will do)
Red Yarn for contrast trim (optional)
"J" hook (6.0 mm)
Scissors or Yarn Cutter
Blunt large eye yarn / tapestry needle to weave in ends
Abbreviations used in this pattern:
ch – chain
st – stitch
sl st – slip stitch
sc – single crochet (US)
dc – double crochet  
Pattern Instructions:
*Note: This project is worked in the round on the base of a magic ring. If you do not know how to do this, please see tutorial here from: yarntomato on CrochetMe
The hat in this picture is made with my Easy Peasy Youth Sized (Age 3-10 years old) Double Crochet Beanie  Hat Pattern which you can find  here as a foundation for the project.  Want it in another size? No worries. Head over to Easy Peasy All Family Sizes Free Double Crochet Beanie Patterns to select the size you want for your project.
Hat Base: in main color black yarn
Use Easy Peasy Crochet Beanie Size of your choice
One completed sl st red yarn (optional contrast trim) to where you left off on beanie base. Ch 1 before placing 1 sc in each st around. Sl st in to the top of the 1st st. Fasten off.
Once you have completed your beanie for the base you are ready to start on making your Mickey Mouse ear hat!
Note: If you are going to do this in toddler size beanie, make the 3rd round in mouse ears sc instead of dc.  If you are going to do this in 6 months to 12 months, make both 2nd and 3rd round sc instead of dc.  If you are doing newborn to 6 months make all the mouse ear rounds in sc.
Ear Front (Make 2): using black yarn
Round 1: In a magic circle, ch 2 before placing 12 dc in circle. Pull circle closed in tight circle. Sl st in to top of 1st st in round. (12 dc)
Round 2: Ch 2 before placing 2 dc in 1st st and next 11 st. Sl st in top of 1st st in round. (24 dc)
Round 3:  Place *2 sc in first st, 1 sc in next*. Repeat this pattern *around until end of round. (36 dc)
Fasten off.
Ear Back (Make 2): using black yarn
Repeat Rounds 1-3 from Ear Front step above but do not fasten off at end of Round 3.
Cut your yarn making sure you leave a tail long enough to sew the perimeter of the mouse ears together and then on to the top of your Mickey hat.
Finishing off:
Using the tail left behind on one of the mouse ear backs, use your Blunt large eye yarn / tapestry needle to sew an ear back to an ear front. A basic in and out stitch is what I use but feel free to do whatever makes you most comfortable. Once you have ear assembled, use your Blunt large eye yarn / tapestry needle to secure the ear to the side top area of the beanie in desired location on hat. You can see my pictures for where I placed my own.  Once you have it in place, pull your yarn in to the inside of the beanie before finishing off extra length.  Repeat this process for the second ear.
Now check over your crochet project for any tails or ends that you may have missed in process to weave in and finish off. Do so if you find any.
Here are some of the pictures I took to show how this Mickey the Mouse hat looks from different directions when completed: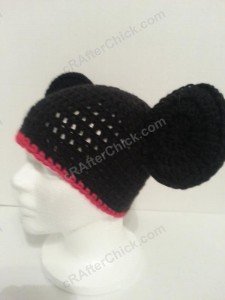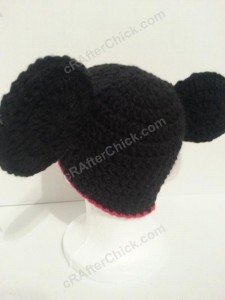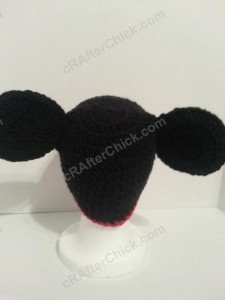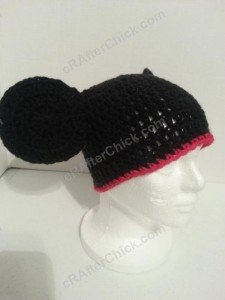 Note: All the cRAfterChick patterns shared on this site are free of charge.  Please feel free to use them to make your own items.  If you use it to make items to sell please credit cRAfterChick for the pattern and provide link to our site.  Please do not copy and paste my pattern or try to use my images as your own.  You can link to any of my patterns.  Happy crafting!
Want more free patterns? Follow cRAfterChick on Facebook or Pinterest to get updates on patterns as they are added.