Grandma's Large and Fast Kerchief Crochet Pattern
 free crochet pattern from cRAfterChick.com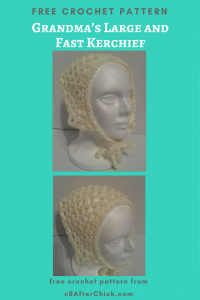 When my mother asked me to help out by making some hat costumes for her little ones doing a class play on a mash up of fairy tale characters I couldn't say no.  I made this pattern up to whip something up quickly for Little Red Riding Hood's Grandma to wear in the class play.
This Kerchief crochet pattern will work on Youth sized (3 -10 yrs) as a larger cover for the head but normal fit for preteen, young adult, and adult women.  Even though this was created as a costume piece it can definitely be used as a normal head covering and would look amazing in some vibrant colors too.  So here it  is:
Grandma's Large and Fast Kerchief Crochet Pattern Notes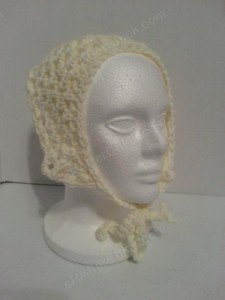 Project requires:
Main Colored Yarn for Kerchief
(I use a lot of Red Heart saver yarn but any medium to normal weight yarn will be fine)
"J" hook (6.0 mm)
Scissors or Yarn Cutter
Blunt large eye yarn / tapestry needle to weave in ends
Abbreviations used in this pattern (US crochet stitches):
ch – chain
ch-1 sp  – chain 1 space in between stitches
ch-3 sp -chain 3 space in between stitches
st – stitch
sl st – slip stitch
sc – single crochet (US)
dc – double crochet (US) 

Pattern Instructions:
Starting with a foundation chain of 41.
Round 1: Sc in 2nd ch from hook, *ch 1, skip next st, sc in following st* continue until the end. Ch 4 and turn.
Round 2: Work 1 dc in first ch-1 sp,  *ch 3, work 1 dc in next ch-1 sp* repeat * until end of row. Sl st into the last ch-3 sp created, ch 4 and turn.
Round 3 – 20: Work 1 dc in to the first ch-3 sp, *ch 3, work 1 dc in next ch-3 sp* repeat * until end of row. Sl st into the last ch-3 sp created, ch 4 and turn.  You will notice that in each round your kerchief will be getting one ch-3 sp smaller than previous round. This will give it the nice triangular shape. Repeat round 3 until you finish last round leaving 1 ch-3 sp. In Round 20, dc in last sp as previous rounds. Sl st into the side of ch 3 sp you just created. Ch 1 and turn.
Round 21: Turn piece so you are now working counter clockwise from where you left out.  Place 2 sc in the side of each ch -3 space until you reach the right top corner. Place 2 sc in corner. Chain 41. Work 1 sc in second ch from hook and each of the following 39 st. Sl st back into st you started ch from. Continue working to the left putting 1 sc in each st across to the left corner. Sl st in to corner before making a chain of 41. Like before starting at 2nd ch from hook work 1 sc in each st back down to corner, sl st into st before placing two sc.  Turn piece so you are working last side of the triangle placing 2 sc in the side of each ch-3 sp until you are back at the beginning of round. Sl st to first st in round.
Cut yarn, pull through and fasten off.  All done!
Want a bit of a color pop to add to your crocheted kerchief?  Try doing that round with ties in a contrasting shade of yarn.

Here are some pictures to show how this kerchief looks like worn and from different angles:
Want more free patterns? Follow cRAfterChick on Facebook or Pinterest to get updates on patterns as they are added.
Note: All the cRAfterChick patterns shared on this site are free of charge.  Please feel free to use them to make your own items.  If you use it to make items to sell please credit cRAfterChick for the pattern and provide link to our site.  Please do not copy and paste my pattern or try to use my images as your own.  You can link to any of my patterns.  Happy crafting!