Head Full of Daisies Beanie Hat Crochet Pattern
 free crochet pattern from cRAfterChick.com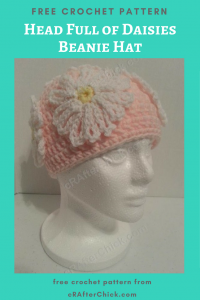 There were four students being narrator's in the classroom play. I didn't want them to feel left out on the costume hats I made all the actors in the play so I went with nature related hats.
This pattern is really quick and simple as I was in a time crunch.  It is definitely beginner friendly. All you have to know is how to work in the round. Link below to instructions if you don't know how to use magic circle.
P.S. I love daisies 😀
Head Full of Daisies Beanie Hat Crochet Pattern Notes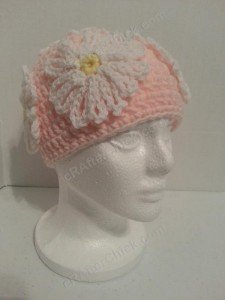 Project requires:
Pink Yarn for Beanie Hat main color or desired hat color-  (I use a lot of Red Heart Saver yarn but any medium to normal weight yarn will do)
White Yarn for daisy petals
Yellow / Gold Yarn for center of daisies
"J" hook (6.0 mm)
Scissors or Yarn Cutter
Blunt large eye yarn / tapestry needle to weave in ends
Small amount of fiberfill stuffing
Abbreviations used in this pattern (US crochet stitches):
ch – chain
st – stitch
sl st – slip stitch
sc – single crochet (US)
ch-1 sp – chain 1 space
dc – double crochet  (US)

Pattern Instructions:
*Note: This project is worked in the round on the base of a magic ring. If you do not know how to do this, please see tutorial here from: yarntomato on CrochetMe
The hat in this picture is made with my free Easy Peasy Youth Sized (Age 3-10 years old) Double Crochet Beanie  Hat Pattern which you can find here as a foundation for the project. Want it in another size? No worries. Head over to Easy Peasy All Family Sizes Free Double Crochet Beanie Patterns to select the size of the free pattern you want for your project.
Hat Base: in main color yarn
Use Easy Peasy Crochet Beanie Size of your choice
Once you have completed your beanie for the base you are ready to start on making your own head full of daisies beanie hat!
 Note: If you are going to do this in newborn / infant/ up to 1 year old sizes, switch to a G hook for the features instead of the J to scale them down in size.
Making Daisies:
Round 1: Starting with yellow / gold yarn in a magic circle ch 1 before placing 12 sc. Pull circle closed and sl st in the top of the first sc in round. (ch 1 does not count as a st) (12 sc)
Round 2: Ch 1 before placing *1 sc in st, ch 1 * and repeat process around until you are back at beginning. Sl st in to the top of the 1st st in round. ( 12 sc, 12 ch-1 sp) Fasten off your yellow / gold yarn.  I leave a short tail on mine to use it to attach the daisy in place during assembly process.
Round 3: Taking your white yarn (or other flower color if you so desire) and sl st in to the one of the ch-1 sp. Ch 12 before sl st back into same ch-1 sp, *sl st in to next ch-1 sp, ch 12 before sl st back in to same ch-1 sp* repeat this process until you sl st back in the original ch-1 sp.
Leave tail long enough to attach your daisy to hat once all are completed if you fastened off the yellow/ gold completely in previous step and want to secure it with the white yarn. If you already left tails from flower center fasten off white.
Repeat this pattern with rest of daisies until you have:
Teen – Adult : 6 daisies
Toddler – Child / Youth:  4 daisies
Newborn to 1 year old:  4 daisies done with a "G" hook instead of "J" hook pattern calls for above.
Finishing off:
Place your daisy flowers on the hat where you want them situated. I often pin mine in place to get a good feel of the end result before I start tying them on.  With these just a few double knots and loops through to secure it works out just fine.  Not a lot of stitching required.  Once you have secured all your flowers in place, turn the hat inside out and finish off all left over tails or ends of yarn. Turn right side out again.
All done!  You have one Head Full of Daisies Hat to show off.  I'm not normally a girly girl but I love how this one turned out.
Here are some of the pictures I took to show how it looks worn and from different directions when completed: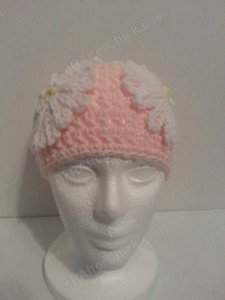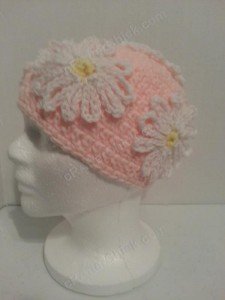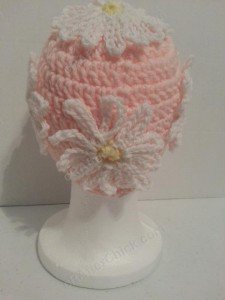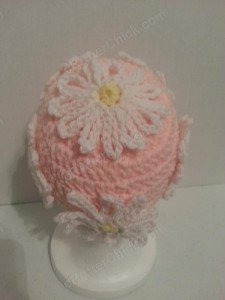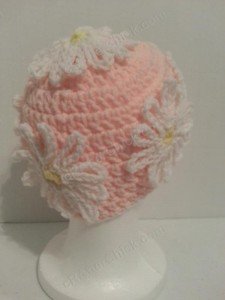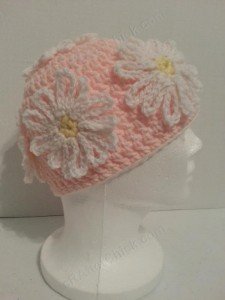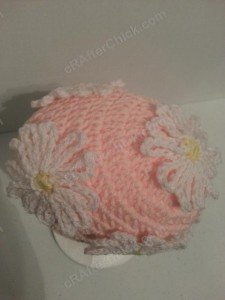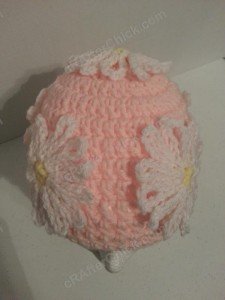 Want more free patterns? Follow cRAfterChick on Facebook or Pinterest to get updates on patterns as they are added.
Note: All the cRAfterChick patterns shared on this site are free of charge.  Please feel free to use them to make your own items.  If you use it to make items to sell please credit cRAfterChick for the pattern and provide link to our site.  Please do not copy and paste my pattern or try to use my images as your own.  You can link to any of my patterns.  Happy crafting!