Reversible Coasters Crochet Pattern
free crochet pattern from cRAfterChick.com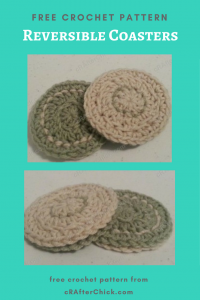 Are you a beginner to crochet or perhaps just want an easy to remember small project that you can do in a small amount of time?  If you are going to someone's house for a party or dinner, think about coasters as part of a hostess gift you give.
I like the reversible aspect of this pattern and it's ease for even first time beginners.  Using both yarn colors to stitch them together gives a nice tie in to each side being put together.
Give it a try.  You may find making coasters addictive like me. 😉
Reversible Coasters Crochet Pattern Notes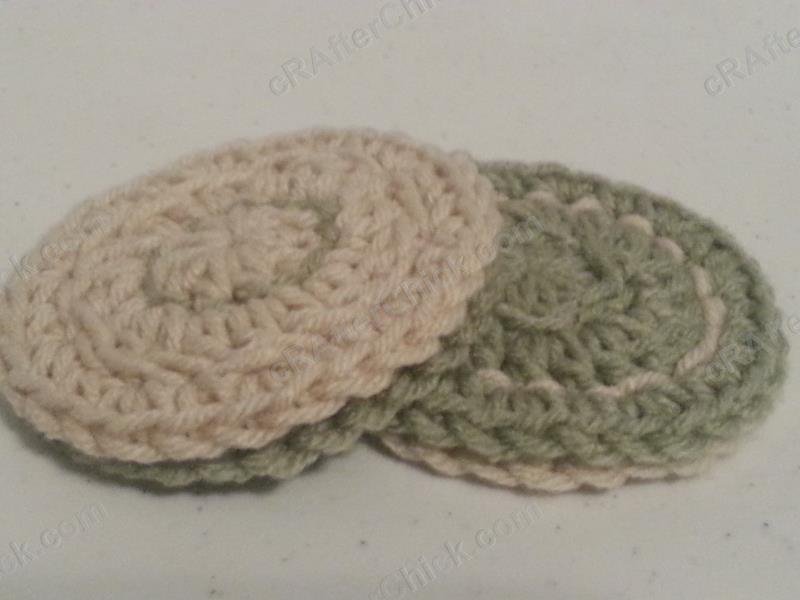 Project requires:
First color yarn for Coaster color A
(I use a lot of Red Heart Saver yarn but any medium to normal weight yarn will do)
Contrasting color yarn for Coaster color B
"J" hook (6.0 mm)
Scissors or Yarn Cutter
Blunt large eye yarn / tapestry needle to weave in ends
Abbreviations used in this pattern (US crochet stitches):
ch – chain
st – stitch
sl st – slip stitch
sc – single crochet (US)
dc – double crochet (US)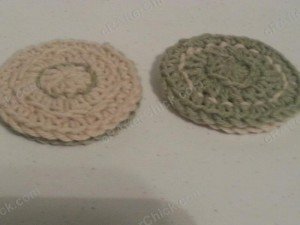 Pattern Instructions:
*Note: This project is worked in the round on the base of a magic ring. If you do not know how to do this, please see tutorial here from: yarntomato on CrochetMe
Here is closeup of a coaster to get a better look before starting. Here we go.
Coaster Side A: using color A yarn
Round 1: In Magic Ring, ch 2 (does not count as a dc throughout pattern as I use this to make a more seamless appearance in my hats) then 10 dc in ring. Tighten ring. Join with sl st to top of beginning st. (10 dc)
Round 2: Ch 2. *2 dc in first and following 9 st. Join with sl st to top of beginning st. (20 dc)
Round 3: Ch 1. *2 sc in next st. Sc in next st. Repeat from * around. Join with sl st to top of beginning st. (30 sc)
Cut yarn, pull through leaving a nice long tail to sew around to attach coasters.
Coaster Side B: using color B yarn
Pull out your Coaster color B and follow instructions for Coaster Color A above.
Finishing off coaster:
Now you should have two coaster pieces in contrasting colors with extra long tails for sewing together.  Normally I'm about hiding colors that contrast in stitching but this is actually something we want to see in this project.  It gives the coasters a nice polish and ties in the colors from both sides together.
Take both coasters and place them back to back to each other with the good side of your stitching facing out on either side.  Using the yarn needle take the first tail and work it down to the border or Round 2 and 3.  You want to have the contrasting color to the color of the tail you are sewing facing you since this will show you that you have the visible stitching even throughout.  I just did a basic in and out stitch weaving it through until I completed all the way around to where I started the stitching.  Finish off.
Then you are going to turn the coaster so the opposite color to the remaining yarn tail is facing you. Using the large blunt eye yarn / tapestry needle as before, work this tail down to the border between Round 1 and 2.  Now work the stitches completely around this circle, in and out, until you have reached the beginning of the circle again.  Pull through yarn and finish off.
All done. Now you just need a few more to make a complete set. Since this project is actually making use of the contrasting colors with the stitching to make it reversible please feel free to play around with the colors.
I tend to pick colors for my coaster projects that:
1. Match host / hostess furnishing color scheme if I know it
2. Match season or upcoming holiday colors
3.  Our colors of their favorite team or school
4. Colored to fit the occasion or event. For example, I once made coasters with baby pink on one side and baby blue on the other as a gift for a friend that didn't want to know sex of her baby until they were born at her baby shower.
Again you don't have to use my suggestions. There are so many color combinations and you should feel free to play around to make all the fun coasters you want.
Want more free patterns? Follow cRAfterChick on Facebook or Pinterest to get updates on patterns as they are added.
Note: All the cRAfterChick patterns shared on this site are free of charge. Please feel free to use them to make your own items. If you use it to make items to sell please credit cRAfterChick for the pattern and provide link to our site. Please do not copy and paste my pattern or try to use my images as your own. You can link to any of my patterns. Happy crafting!