Teacher Apple Coasters Crochet Pattern
 free crochet pattern from cRAfterChick.com
I am very proud of my mother for going back to school a few years ago and getting her teaching degree.  I wanted to give her something useful that worked as a mention to her being a teacher.  So I thought apples for the teacher.
This is a pretty basic crochet pattern that even a beginner to the world of crochet can try out.  I hope you like them too.
Teacher Apple Coasters Crochet Pattern Notes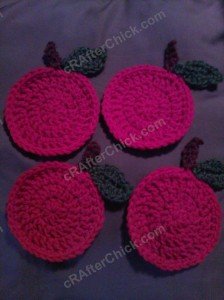 Project requires:
Red yarn for main coaster part-  (I use a lot of Red Heart Saver yarn but any medium to normal weight yarn will do)
Green yarn for leaf
Brown yarn for apple's stem
"J" hook (6.0 mm)
Scissors or Yarn Cutter
Blunt large eye yarn / tapestry needle to weave in ends
Abbreviations used in this pattern (US crochet stitches):
ch – chain
st – stitch
sl st – slip stitch
sc – single crochet (US)
dc – double crochet (US) 
hdc – half double crochet (US) 
Pattern Instructions:
*Note: This project is worked in the round on the base of a magic ring. If you do not know how to do this, please see tutorial here from: yarntomato on CrochetMe
Here is closeup of a coaster to get a better look before starting. Here we go.
Red Apple Coaster: using red yarn 
Round 1: In Magic Ring, ch 2 (does not count as a dc throughout pattern as I use this to make a more seamless appearance in my hats) then 10 dc in ring. Tighten ring. Join with sl st to top of beginning st. (10 dc)
Round 2: Ch 2. *2 dc in first and following 9 st. Join with sl st to top of beginning st. (20 dc)
Round 3: Ch 2. *2 dc in next st. Dc in next st. Repeat from * around. Join with sl st to top of beginning st. (30 dc)
Round 4: Ch 1. 2 sc in first, *1 sc in next 2 st and 2 sc in following st. Repeat from * around.  Join with sl st to top of beginning st.  Join to top of first st.  (40 sc)
Cut yarn, pull through and finish off red apple part of coaster.
Apple Stem: using brown or black yarn
With Brown Yarn, attach to apple with a sl st where you want the stem to go.
Chain 7. Place a sc in the third ch from hook and each of the following 4 ch. Sl st back into the apple coaster where you started chain.
Cut your yarn, pull through and finish off the apple stem.
Green leaf on stem: using green yarn
With Green yarn for the apple's stem, chain 7. Sc in third ch from hook, hdc in next, dc in next, hdc in following and sc in last ch. Sl st into same stitch turning your forming leaf clockwise so you are now working on the unworked side of chain. Ch 1, hdc in next st, dc in next, hdc in following, sc into last st and connect to first st with a sl st.   Leave a long enough tail when cutting yarn to be able secure it into place on the stem.    Use the tail and large blunt eye yarn / tapestry needle to sew the leaf into place. I found it works best to secure into top as apple as well as stem.  Pull yarn through to back off project before finishing off.
There you go.  You can whip up a whole set for the special teacher or teachers in your life.  They make cute and thoughtful gifts without breaking the bank or tons of time.
Want more free patterns? Follow cRAfterChick on Facebook or Pinterest to get updates on patterns as they are added.
Note: All the cRAfterChick patterns shared on this site are free of charge.  Please feel free to use them to make your own items.  If you use it to make items to sell please credit cRAfterChick for the pattern and provide link to our site.  Please do not copy and paste my pattern or try to use my images as your own.  You can link to any of my patterns.  Happy crafting!