Rainbow Cuddles Stuffed Crochet Unicorn with Bow on Tail Project (Done)
free crochet pattern found online by OneDogWoof
I had a request last year for another unicorn, this one larger for for a family member's oldest girl to cuddle and carry around. When I came across the free crochet pattern by OneDogWoof I knew I found a perfect match for her and didn't need to brainstorm any more as requests were made for all 4 of the children in that family plus the holidays were rapidly approaching. (Yes… yikes.)
Here is what the original pattern with colors from their pattern looked like in picture below.
Unfortunately Hurricane Irma happened. While we did not sustain much damage to our home itself, our yard and fence plus my body itself did. I could not crochet again til this past week. So this little guy sat with no tail or mane until a few days ago.
I decided to add the bow to secure the tail and hide any ugly extra double knots I add for security with little ones… plus I really love giving the girls the pink bows they love.

I did change the leg positioning to the the sides more for better hugging and cuddling at night. After a bit of struggling due to hands and that mane, I am pleased with the end result. Hoping the little one will be as well.
Here are some pics of the adorable unicorn. The pattern is a definite keeper.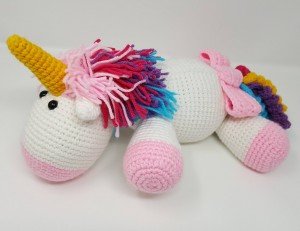 <3 cRAfterChick
P.S. Keep tuned for updated blogs and pictures for all the projects I did but didn't update on pre Irma. Lots of amigurumi and a whole new free pattern set I have been creating that I am very excited about.